How to Choose the Right Mortgage Lender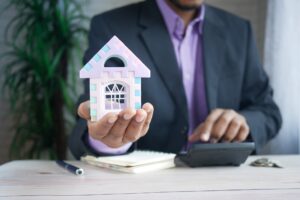 Searching for the right mortgage lender can be a daunting task. With so many options available and various potential interests to consider, searching for the perfect loan provider may seem overwhelming. Fortunately, with just a bit of information and investigation, it is possible to discover the best-fit mortgage lender that meets your needs –providing you with more time to concentrate on more significant financial decisions. In this blog post, we'll explore key elements that should inform your decision when choosing the right mortgage lender.
1. Research Potential Lenders
As we've said, finding the right mortgage lender can be tricky. That is why you'll want to do as much research into potential lenders, such as banks and direct lenders, as possible. Not only that, but you'll want to carefully compare interest rates, fees, loan terms, and other conditions before making your decision. Interest rates vary according to the type of mortgage loan and what you qualify for. Therefore, shopping around is essential to find the best deal that fits your interests and budget. Another factor to consider is the closing costs associated with the loan; while they are worth looking into, they are not always negotiable. Consider all the elements involved before settling on a lender so you can rest easy knowing you've made the right choice.
2. Check Out Customer Reviews
When exploring different lenders for your mortgage, looking at how satisfied their customers are is essential. Reading customer reviews is a great way to get an idea of the quality of service they offer and the overall experience people have with the lender. Take the time to read through these reviews, considering ratings and what people say about the lender so you can make a well-informed decision on who you want to work with.
3. Ask Questions About the Process
When shopping for a mortgage lender, asking important questions about the process is essential. It will be easier for you to make a well-informed decision if you understand the amount of time it will take to close your loan and the costs associated with doing so. Finding a dependable and trustworthy lender who can provide excellent service and comfortable financing is part of finding a lender who can comfortably meet your financial needs. One of the aspects of this process is knowing how long it should take to secure your loan. Another aspect is knowing what fees may come with it. You can cut down on the number of potential lenders if you ask questions up front, which will ultimately help you choose the company that is best suited to meet your requirements.
4. Speak to Multiple Lenders
We understand that most people just want to get the process of finding a new home finished. They want to team up with professionals and move in as fast as possible, especially when making a long-distance move in Arizona. However, you must not make the mistake of rushing and only talking to one lender. Speaking with multiple lenders is crucial in choosing the right mortgage provider. Every lender has different offers and qualifications that they must meet before they can approve you for a loan. You must do your due diligence and compare multiple lenders to ensure you get the best experience possible.
Inquire about the costs associated with the closing, the types of rates and discounts that are available, the length of time it will take to complete the process, and any other pertinent information that can assist you in making a decision. Taking the time to do thorough research and speak with several different lenders will help you select the lender who best accommodates your individual requirements and gives you a favorable interest rate.
5. Find Out if the Lender Is Licensed
When looking for a mortgage, a person should always make it a point to verify that the relevant state or federal authorities have granted the potential lender a license. When it comes to protecting yourself from fraud and ensuring the safety of your most significant investment, this is an essential consideration to take into account. Either through the online resources provided by the lender or by inquiring with the banking authority in your area, checking the licensure status of a lender is a simple process that can be completed in either case. In addition, it is a brilliant idea to look up reviews of the lender online to learn about the experiences that previous clients have had. That will allow you to select the best mortgage lender for your needs.
6. Make Sure You Can Afford the Monthly Payments
If you are wondering whether now is the perfect time to buy a home, assessing your financial situation realistically is essential. To understand how much you can afford to spend on a loan, consider how much money you make each month and your regular expenses. This way, before you even talk to any lenders, you will already know the maximum payment amount compatible with your financial plan. Be careful not to put undue strain on yourself by taking out a loan with monthly payments higher than your current income, and outgoing expenses allow you to afford comfortably.
Conclusion
Choosing the right mortgage lender doesn't have to be a daunting process. With the right tools and resources, you can easily find a lender that will meet your needs. Research your options, compare rates, read customer reviews, and speak with several lenders before committing to one. Make sure the lender is licensed and has a good reputation. Ask questions about their loan process to be comfortable with what you're signing up for. Once you do your due diligence, you should feel confident in making an informed decision that best suits your financial circumstances. Good luck!
If you want to ensure that you are working with the best of the best, we are here to tell you how to choose the right mortgage lender.