Arizona FHA Loan, Tips, and Info
We love the Arizona FHA loan at Arizona Wholesale Mortgage Inc. They allow us to help worthy families who might not otherwise meet requirements for Conventional loans. An Arizona FHA loan currently are particularly beneficial to those buyers with less cash in the bank.
Secondly, the mortgage rates on an Arizona FHA loan are generally right in line with Conventional mortgage rates if not cheaper.
This means that FHA mortgage rates are often as just as good (and always very close) to the best Conventional loan rates for borrowers with a large down payment.
NEED DOWN PAYMENT ASSISTANCE? 
We have a new FHA loan that only requires a down payment in the amount of 1.5% of the purchase price.  The other 2% of your down payment is given to you in a form of a grant by the US government.  There is no repayment or lien on this grant money.  One does need to meet the loan qualifications of being a first time home buyer or has not owned a home in the last 3 years.  You can not make more than the set income requirement.
Please call in for income requirements since this changes yearly.  If you are a medical responder or a teacher you automatically qualify if you have a 580 or higher fico score and are a first time home buyer or have not purchased a home in the last three years.  580 is the required fico score on this program.  All borrowers must receive an Approved/Eligible findings when the loan program is ran through DO.  This program is available in almost every state.
 What is an Arizona FHA loan?
It is a loan that the Federal Housing Administration insures. FHA does not actually loan or provide mortgage funding to the borrowers. Instead, FHA provides insurance to the mortgage loan provider. FHA stands behind or guarantees your loan. Furthermore, loan limits vary depending on where you live in each state and your county.
If the borrower defaults on their FHA mortgage (foreclose), the Federal Housing Administration would cover most House Key or all of the losses that the lender would incur.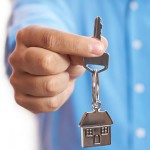 This makes banks much more willing to lend FHA-guaranteed money. The bank's risk is extremely minimized.
This is also why the FHA loan is popular among first time home buyers. Oftentimes, first time home buyers do not have the down payment that a Conventional loan requires.  However, it is a myth that the FHA mortgage is a "first time home buyer's program."

You do not need to be a first time home buyer to qualify for an FHA mortgage.
In fact, many of our clients who have their choice of multiple loan options ultimately end up with an FHA loan, simply because the qualification process is easier and the loan limits are large enough to buy almost any home for sale in Phoenix at this time.
Furthermore, it is easier to qualify for an FHA loan than a Conventional mortgage. The Federal Housing Administration stands behind your loan and insures the bank's interest. We're proud to be Americans!
Almost anyone can secure an FHA mortgage.